Celebrate Valentine's Day with a DUFi Flower for Your Downtown Favorites
On February 14th, DUFi wants Downtown Bryan to be your Valentine. Downtown Bryan is an extremely unique place full of thriving businesses, wonderful people and a great sense of community. The Distributed Urban Farming Initiative (DUFi) wants you to show your love and appreciation in the form of the classic Valentine's Day carnation.
Say, "Be Mine" and share the love for your favorite downtown businesses by purchasing carnations. DUFi will deliver the flowers and your message on Valentines Day. Advance flower sales will be available during February's First Friday (February 1st) in two locations downtown. Buy a carnation and send a love note to your favorite Downtown business or person. Sales will continue until Valentine's Day at SEAD Gallery in the Federal Building located at 216 W. 26th Street. The proceeds will support the DUFi downtown gardens and the love will be felt by all.
Remember to fill out the form at the end of your purchase to let us know which business you would like us to send your carnations to!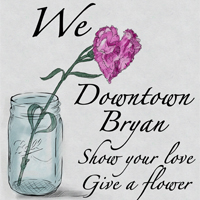 Donate a carnation to your favorite
Downtown Bryan establishment!
Price: $2.00